Disaster recovery
Conservation Services responds to emergencies in the Libraries' seven buildings and coordinates the Collections Emergency Response Team, consisting of library staff in each library. Members of the Collections Emergency Response Team participate in disaster preparedness and recovery training, monitor use of disaster kit supplies, and help keep disaster plans up to date.
---
Disaster Kits
Each library is equipped with at least one disaster kit that houses basic supplies like paper towels, sponges, scissors, and plastic. Our kits are outfitted with wheels and a handle to allow them to be transported easily.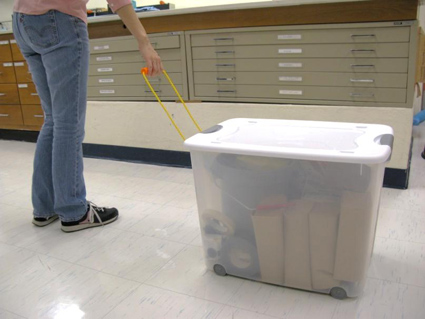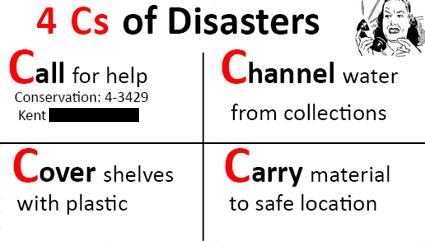 4Cs Emergency Response Cards
We have developed an emergency card for everyone to have by their phones, in their wallet, or posted in their office, outlining simple steps anyone can take in event of a collections emergency.
Disaster Plans
We have disaster plans for each library, in a longer written form and a "pocket plan" version that folds into a credit card sleeve. The pocket plan is based on the Council of State Archivists' Pocket Response Plan.
KCHERN
The University of Kansas is a member of the Kansas Cultural Heritage Emergency Resources Network (KCHERN) made up of libraries, museums, historical societies, and other cultural heritage institutions located throughout the state. More information is available at their website.
Disaster Planning in Action
In 2012, we faced our largest challenge to date, when 17,000 items were inundated in the Murphy Art & Architecture Library by a water main break. Thanks to planning and teamwork, better than 97% of the items were recovered and returned to use.