Preserving historic newspapers
Why Newspapers Deteriorate
Modern newsprint contains lignin and wood pulp. It's inherently acidic and doomed to become brittle and discolor over time when left unprotected and exposed to heat, humidity, light or pests. Careful storage and a few commonsense precautions can dramatically slow deterioration.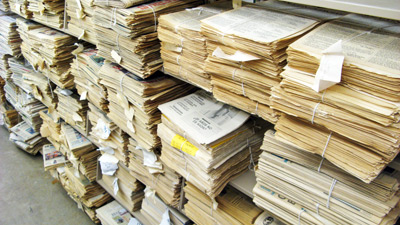 Displaying Newspapers
Original newspapers will yellow and become brittle over time when displayed. Color copies, printed from digital files, display beautifully and can be difficult to distinguish from originals. If you do display the original paper, protect it from direct sunlight and illuminate with incandescent rather than fluorescent light. If framing or mounting your paper, use acid-free mat board as backing and avoid letting the newspaper contact the glass.
Preserving Originals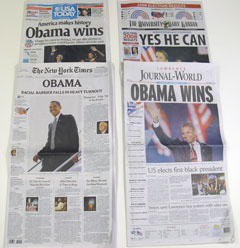 First open papers so they're flat.
Place the papers in acid-free paper folders or inert, transparent Mylar or Melinex (polyester) folders. Alternatively interleave newspapers with acid-free paper, which should be periodically replaced.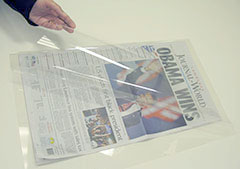 Store flat newspaper storage box or stabilize between acid-free boards.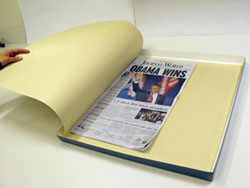 If you are storing more than one paper, place each in a separate folder. Folders should be the size of the box—not the size of the newspaper.
Store in a cool, dry, and dark location.
To learn more, see "Preserving Newspapers" created by the Library of Congress Preservation Directorate: paper.
---
Supply sources:
In Lawrence:
Archival supply catalogs (search under "newspaper"):