Gallery Spaces
Kenneth Spencer Research Library Exhibit Space
Haricombe Gallery, Watson Library
International Collections Exhibit Space, Watson Library
MoCOLAB
---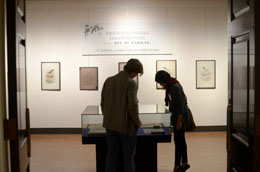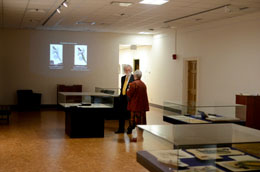 Kenneth Spencer Research Library Exhibit Space
Located on the third floor of Kenneth Spencer Research Library, the Exhibit Space features revolving exhibitions that highlight library collections through the exploration of different themes. Spencer is home to KU Libraries' holdings of rare books, manuscripts, and regional and university history materials. The Exhibit Space is open to visitors whenever the building is open; visit the library hours page for more information.
---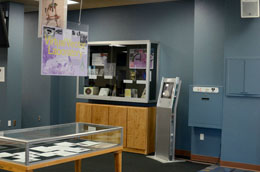 Haricombe Gallery, Watson Library
The Haricombe Gallery features floor and wall cases and multimedia displays. Revolving exhibits highlight library collections and campus scholarship through the exploration of different themes. The exhibition space is located on the 3rd floor of Watson Library, 1425 Jayhawk Boulevard, on KU's Lawrence campus during library hours.
---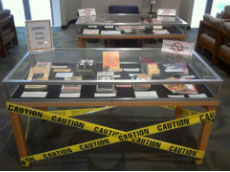 International Collections Exhibit Space, Watson Library
Located on the 5th floor of Watson Library at the University of Kansas, the International Collections gallery hosts book exhibits featuring diverse international literature and scholarship assembled to support the teaching and research needs of the University. Exhibition materials are accessible during library hours .
---
MoCOLAB
The KU Mobile Collaboratory, or MoCOLAB, is a repurposed 1972 31' Airstream Land Yacht that was conceived and designed to be KU's community classroom on wheels, and acts as the venue for the Traveling University Libraries Exhibits program, the traveling component of the KU Libraries Exhibits program. It makes appearances at events in the Lawrence and Kansas City areas.
The exhibit events hosted by TULE and the MoCOLAB have recently been featured in a Museum Studies master's project,"A Brief History of the Mobile Museum," discussing the history of mobile museums in the United States. Visit KU Scholarworks to see more scholarship generated at the university.