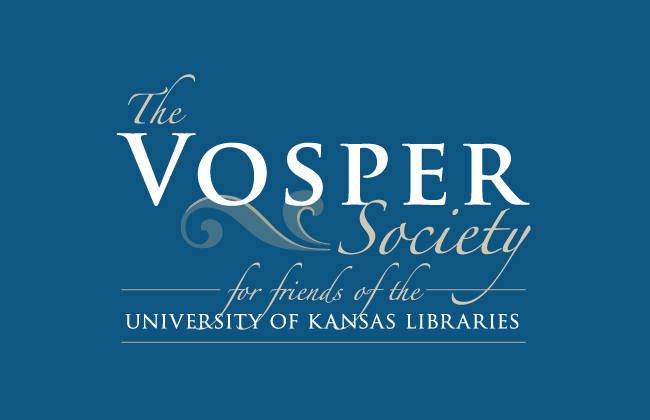 Recognizing our donors for all they do...
Named for celebrated librarian and former director of KU Libraries Robert Vosper (1913-1994), the Vosper Society honors those who demonstrate interest in and support for KU Libraries' purpose, vision and potential as an essential partner to scholarship at KU and beyond.
The society recognizes five giving levels, with baseline annual membership achieved with a gift of at least $100 or a gift in kind made during the fiscal year.
Benefactor – $2,500 +
Advocate – $1,000 +
Donor – $500 +
Friend – $100 +
KU Community – Current and retired faculty and staff, as well as current students, will be recognized at any giving level
Contributors – Gifts in kind  
---
About Robert Vosper
Robert Vosper was named one of the top 100 most important people in 20th century librarianship by American Libraries, a publication of the American Library Association (ALA). The ALA lauded him "as a force for libraries and for the rights of librarians as partners in scholarly enterprise…. [H]is commitment to the library as an intellectual sanctuary was an inspiration to many."
Vosper served as director of KU Libraries from 1952 to 1961, shaping the collections with many of its most important acquisitions and establishing such innovative means to reach out to students as the Snyder Book Collecting Contest. He was especially known for his defense of intellectual freedom, notably mounting an exhibition on banned books during the height of the McCarthy era, doing so with strong support from Chancellor Franklin D. Murphy. That exhibition gained international notice, and more than 20,000 copies of its catalog were printed and distributed. It remains in demand and has been recreated in a digital version created by the libraries.
Vosper's contributions to the field of librarianship spanned more than four decades and included several national and international leadership roles. Among these achievements, he served as president of the Association of College and Research Libraries (1955-56) and helped lead the International Federation of Library Associations and Institutions from 1971 to 1977 as chairman and vice-chairman. He received many awards for his work, including a Guggenheim Fellowship in 1969 and the prestigious Lippincott Award in 1985 from the ALA.
The importance of libraries in the fight for intellectual freedom remained a theme for Vosper throughout his life. "The Library is an open sanctuary," he wrote in 1970. "It is devoted to individual intellectual inquiry and contemplation. Its function is to provide free access to ideas and information…. Since it is thus committed to free and open inquiry on a personal basis, the Library must remain open, with access to it always guaranteed."

View our Library Gallery exhibition celebrating the centennial of Robert Vosper's birth.