Luna Insight Tutorial
Simple Search
Enter the keyword term into the search box.
Click Search.

3.  For navigation, viewing, and sorting options scroll to the bottom of the page


Advanced Search
Advance search gives you tools to narrow your search so that your results are more relevant than browsing or a simple search.

1. Click the Advance Search link in the search box.
2. In the All Fields dropdown select a search type  (e.g. artist, category, title, etc.)
3.Enter your search criteria in the input box that matches the type of search you want to perform.
To search multiple criteria use "find all these words".
To do a key word search use "find any of these words"
To do an exact search or phrase use "find this exact wording"
4.To focus your search on a specific collection check the box next to the name(s) of the collection(s) to be searched at the bottom of the screen.
5. Click Search.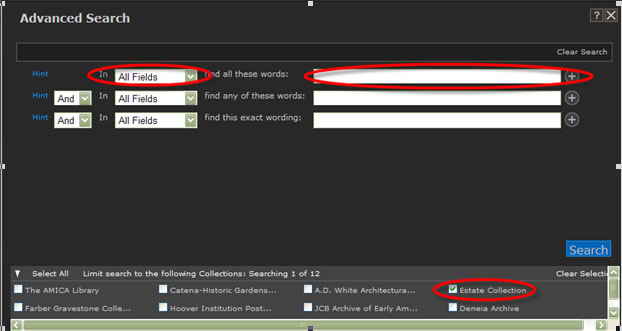 Browse by Collection
To browse a specific collection:
Select one of the collections at the left side of the screen.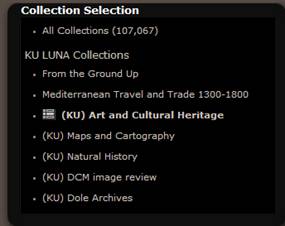 Browse All
To browse all the collections:
From the Home page, select the link Browse All to view all the images in the collection. Note: this is a good option for just trying to get an idea of what the collection contains.

Browse by Category
1. From the Home page, click on Category Pages.
Select an item from one of the categories:
To remove a category:
To go back to more general searching click on the link Remove.

Explore Media Groups
Click on the Explore menu and select Media Groups.
Under Media Groups you have two choices, My MediaGroups or Public Media Groups. You can search My Media Groups (groups you have created in the workspace and saved as a group) by Keyword or Public Media Groups (media groups put together by individuals or groups) by keyword or Username.


Explore Presentations
Click on the Explore menu and select Presentations.
You can search your presentations or public presentations created by others using Keyword searches or Username searches.


Explore External Media
LUNA allows you to search Flickr for images through its interface to use in creating media groups or presentations.
Click Explore from the menu and select External Media.
Search by Keyword or Username.
Click Search.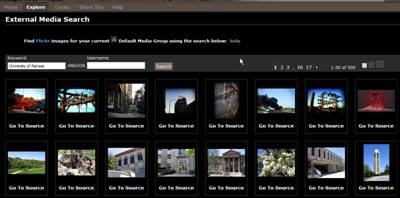 Explore a Workspace
The workspace in LUNA allows you to work with images using the zoom tool; it allows you to view the images metadata, for example the photographer's name, size information, and copyright information. To view images that you have selected, presentations, or media groups:
Click Explore from the Menu.
Select Workspace
To add images to the workspace:
Select the image you want to view.
Click Add to Workspace.

Register to Create Media Groups and Presentations
To create Media Groups or Presentations you must first register for an account in LUNA. Registering an account will also allow you to save preferences. To register click on the Register link in the top right corner by the search box.



Note: You will need to login every time you want to edit or create new media groups/presentations.
Create Media Groups
A Media Group is a compilation of selected media. In LUNA Insight, you can either have Public or Private Media. Public media is shared with anyone searching the LUNA Insight collections; it can also be cloned and exported. Private Groups can be viewed only. The very first time a Media Group is created a default Media Group needs to be set-up
Note: You can also access your current Media Group by clicking on Active Media Group a the top of the page
 
Adding Pictures to a Media Group
To add pictures to a media group (a group has to be created first):
Login to your account (see how to register for the first time in the previous section)
Under the Create menu select Media Groups.
Enter a name for your default group (50 characters max).
Select whether you want the group available for public browsing.
Create a password (optional, if you want to make the group available only to individuals with the password).
Select a folder to store your group (if no folders have been created yet MyGroups will be the default).
If you want the group to be the Default Group leave it checked,otherwise uncheck.
Create a description of what media can be found in the group (optional).
Click Save.


Select an image to save to the group.
Click the Add to Media Group button. 
Create Presentations
To create presentations of images:
Click Create from the top menu. 
You will be prompted to login to LUNA.
Enter a presentation name.
Choose to make the presentation public or private.
Select a folder to save the presentation too.
Enter a description of your presentation. (optional)
Click Save.
Select Open in Workspace. This will open a separate browser for your workspace.
Add images from your searches, browsing, or media groups.
Click Create Slide. 
Find the images you want to add to the slide and select them.
Click Add to Workspace. 
After you have the images added to the workspace that you want to put on the slide click on the Workspace window.
Arrange and size the images how you want them on the slide and click Save Slide.
To insert slides from a Media Group, located at the bottom of the workspace screen,select a slide and drag and drop them into your presentation workspace.
Click Create a Slide to create the next slide.
To edit, clone, delete, export to PowerPoint, create a keynote, or play a presentation:
1. Click on the Presentation tab to open the Presentation Panel.

Export
To export your images, media groups, or presentations to your computer or PowerPoint:
Select the item you want to export.
Click the Export button in the top right corner. 
Share
Allows you to copy and paste the URL of  the picture or LUNA to e-mail or instant messaging.
Select the image, media group, or presentation you want to share and select Share This from the menu.
Embed
The Embed This option on the workspace allows you to great an interactive web widget that allows you to place your image, media group,or presentation with tools on other applications like blogs and wikis.  According to LUNA you can embed:
Search results
Slide Shows
Presentations
Image Workspace
Media Groups
Formatting and image controls
Select the image, media group, or presentation you want to embed.
Click Embed This.
The Embed This page will pop-up with options for customizing your widget.
For More Information
LUNA's Interactive Help menu has tutorials for everything you want to do in. LUNA. I t also contains flash video tutorials demonstrating how to use the different features. You can also access these help features at their website.