Here at KU Libraries, we are fortunate enough to be uniquely positioned at the crossroads of the educational process, bringing together the resources and expertise that KU students and faculty need to succeed.
---
The Official Sponsor of Lifelong Exploration
Whether he's researching international exchange rates or the demographics of local neighborhoods, KU alumnus Edward Patterson appreciates having a wealth of knowledge at his fingertips. KU Libraries, in partnership with KU Alumni Association, is pleased to provide invaluable online library resources to alumni and friends like Edward who wish to continue their professional and personal development. With access to databases and the latest scholarly information, the start of your lifelong exploration starts here.
---
Private support is vital to the work we do. Your contribution, no matter the amount, benefits every student, faculty member and unit at KU. Make a gift today and become the official sponsor of KU Libraries.
---
Questions?
Contact Rebecca Smith, Executive Director of Communications & Advancement, at rasmith@ku.edu or 785-864-1761.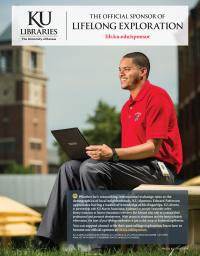 The libraries' sixth installation of its "sponsor" series appeared in Kansas Alumni magazine, issue 4, 2015. View a larger image. To catch the next issue, become a member of the KU Alumni Association.
---