Murphy Art & Architecture Library opened its doors 30 years ago this week. In that time it has more than tripled its holdings, changed its focus (and its name) more than once and now stands at the brink of another potential transformation.
Susan Craig has served as KU's art librarian and the head of the Murphy Art & Architecture Library for nearly all of those 30 years, arriving in August 1981, just months after the original dedication ceremony on October 13, 1980.
Craig has presided over a number of changes to the library, many of which are reflected in the name. At its inception it was known as the Murphy Library of Art History. Soon after her arrival in 1981, Craig proposed changing the name to the more inclusive "Murphy Art Library."
The addition of "Architecture" to the name in 1987 reflected a major change in the collections available there, when after a unanimous endorsement from architecture faculty, the architecture collections were moved from Watson to Murphy. Since then, the library has been known as the Murphy Art & Architecture Library.
Franklin D. Murphy, for whom the library was named, was a former KU chancellor who was instrumental in securing funding for both the creation of the library and its collections over the next several decades. Murphy was also the source of many gifts over the years, including books signed by artists such as Thomas Hart Benton, Isamu Noguchi, Louise Nevelson, and Andy Warhol.
The library housed 45,000 volumes when it opened in 1980; ten years later the collection had bloomed to 90,000 and today holds 160,000 in a facility originally designed to hold a maximum of 100,000.
Finding space for a growing and changing collection continues to be a challenge. "We installed a few ranges of movable stacks in 1989 and in 1998, and would love to put in more," Craig said. "We also moved about 20,000 low-use items to the Library Annex three years ago, but we prefer to keep collections onsite for browsing convenience when it's possible," Craig said. Items at the Annex can be requested through the Libraries' online catalog and delivered to any library location for viewing, typically within 24 hours.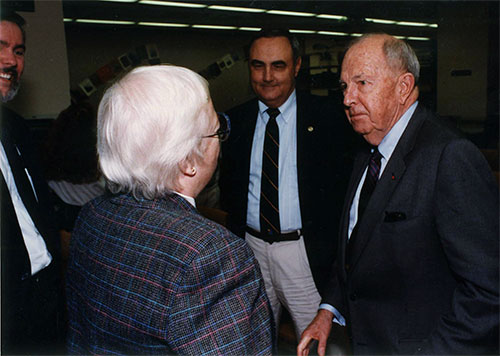 Dr. Franklin Murphy was on hand to celebrate at Murphy Art & Architecture Library's ten-year anniversary in 1990. From left: Bill Crowe, dean of KU Libraries; Marilyn Stokstad, distinguished professor emeriti of the history of art at KU; Max Lucas, Dean of the School of Architecture & Urban Design; and Dr. Murphy.