Wednesday, January 20, 2010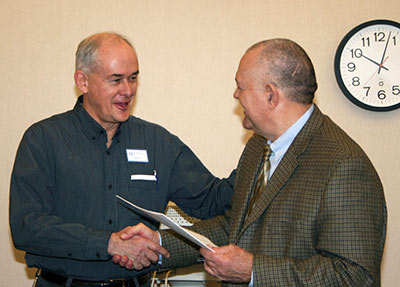 On January 22, vice provost Don Steeples presented KU Libraries employee Robert Szabo with the KU Employee of the Month Award (USS) at Anschutz Library.
As the operations manager for Anschutz Library, Robert is well-known to users and staff as the person to go to with questions, problems and requests for help.
"Robert is a valuable resource to the faculty and staff housed in Anschutz Library, who frequently turn to him for help, support and answers to day-to-day problems that arise," said Jennifer Church-Duran, assistant dean of user services." His dependability and ingenuity have earned him respect and praise throughout the Libraries.... Robert is an innovator, constantly surveying the environment for improved ways to handle workflow, for enhancement to employee working patterns and for new projects or services that will better support our customers."
Lorraine Haricombe, dean of KU Libraries, said, "Robert's quiet competence and good humor, in addition to his considerable work enhancing operations behind the scenes, help make Anschutz a very welcoming place to our students, faculty, and other users. I'm pleased to see his contributions recognized with this award."