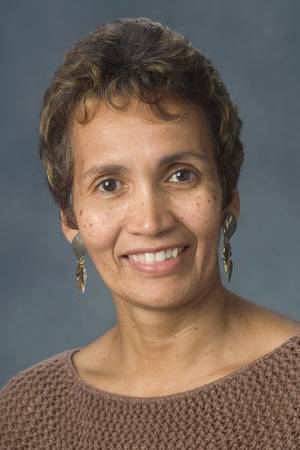 Lorraine Haricombe, Dean of the University of Kansas Libraries, has been elected to the position of Chair of the Steering Committee for SPARC (Scholarly Publishing and Academic Resources Coalition). Haricombe has served as member of the Committee, which provides strategic advice and guidance to the SPARC staff, since 2010.
Haricombe brings to the Chair position a rich and deep perspective informed by working with a variety of libraries and institutions in her career, spending five years as Dean of Libraries at Bowling Green University, as well as serving in various capacities at Northern Illinois University, and Penninsula Technikon in South Africa.
Haricombe has been an active participant in industry-level scholarly communication activities, especially those related to Open Access. She has spearheaded Open Access activities at KU, including playing a leadership role as the University became the first public university in the U.S. to adopt a campus-wide Open Access policy. Haricombe has also been active supporter of national public access policies and has been a vocal advocate of the NIH Public Access Policy as well as the Federal Research Public Access Act (FRPAA). She also played an active role in forming The Coalition of Open Access Institutions (COAPI), a rapidly growing group of institutions dedicated to advancing the implementation of open access policies and practices on campus.
"Lorraine Haricombe is a dynamic leader who is unafraid to take risks," said Heather Joseph, SPARC's Executive Director. "Her deep experience in the library community both in the U.S. and internationally combined with deep commitment to advancing the accessibility and utility of scholarly research will help SPARC cover new ground in the coming years. The committee and I look forward to having Lorraine's leadership and unique vision to help us address the challenges and opportunities before us."
"I am pleased to serve SPARC in this new capacity, and I look forward to our collaborative efforts to advance immediate and open access to information, especially that which is funded by taxpayers," said Haricombe. "By building on the momentum the OA movement has experienced in higher education over the last 10-15 years, we are poised to make strides in inter-institutional collaborations locally (and globally), build new partnerships to highlight intellectual output and help shape national policies to create an empowered citizenry that will contribute to economic development and sustainability."
SPARC's voting membership, which includes representatives from over 200 academic libraries in the U.S. and Canada, also elected the following individuals to serve on the SPARC Steering Committee for three-year terms beginning January 1:
Mary Case, University of Illinois at Chicago (ARL director)
Barbara Dewey, Pennsylvania State University (ARL director)
Deborah Jakubs, Duke University (ARL director)
Mary Marlino, National Center for Atmospheric Research (non-ARL director)
Steering Committee members whose terms concluded in December include outgoing Chair (2010 through 2012) David Carlson (Texas A&M University), Maggie Farrell (University of Wyoming), and Rick Luce (Emory University).
The full SPARC Steering Committee represents ARL (Association of Research Libraries) and non-ARL libraries in the U.S. and Canada as well as SPARC Europe, SPARC Japan, CARL, and AASHL. 
For more information about SPARC governance, visit the SPARC website.
SPARC (Scholarly Publishing and Academic Resources Coalition), with SPARC Europe and SPARC Japan, is an international alliance of more than 800 academic and research libraries working to create a more open system of scholarly communication. SPARC's advocacy, educational, and publisher partnership programs encourage expanded dissemination of research.