Wednesday, November 2, 2016
A unique collection of portraits will be available at KU Libraries thanks to a gift from KU faculty member, Dr. John Tibbetts. Tibbetts, associate professor in Film and Media Studies, is giving the Kenneth Spencer Research Library his original portrait paintings of the many writers, musicians, sports figures and theater and film personalities that he has interviewed. The paintings all bear their subjects' inscriptions and autographs.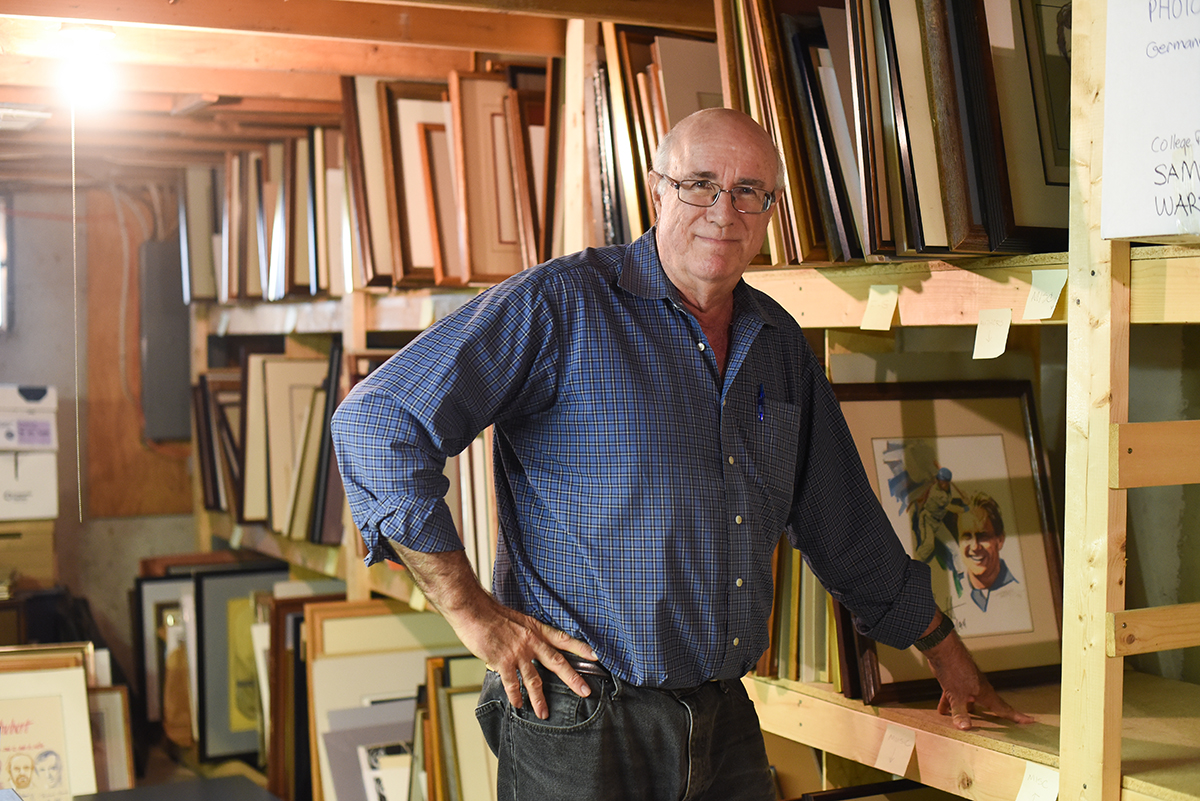 Tibbetts has painted portraits for more than 40 years. As an educator at KU and as a radio and television broadcaster, he gained interviews with hundreds of celebrities and public figures. On those occasions, he executed portraits in watercolor and pen-and-ink, which were personally signed and autographed.
"The portraits were a unique way to connect with my subjects," said Tibbetts. "And many of them requested copies. Personalities like Julie Andrews, Whoopie Goldberg and Gene Hackman were moved to share with me their own artistic efforts."
These donated paintings will supplement approximately 140 of Tibbetts' television interviews currently available through KU ScholarWorks in the "Over the Rainbow" collection.
"I have, in total, over 700 of these autographed paintings," said Tibbetts. "Each drawing is the result of an interview, and many of them are accompanied by photographic, video and audio documentation. They are a part of my life, almost my biography, and I hope others will enjoy the experience of the interviews, including the paintings and audio."
The paintings will arrive at KU Libraries through a multi-year series of donations, with the first installment featuring writers, musicians, broadcasters and sports figures. Additional installments will feature film, television and theater performers.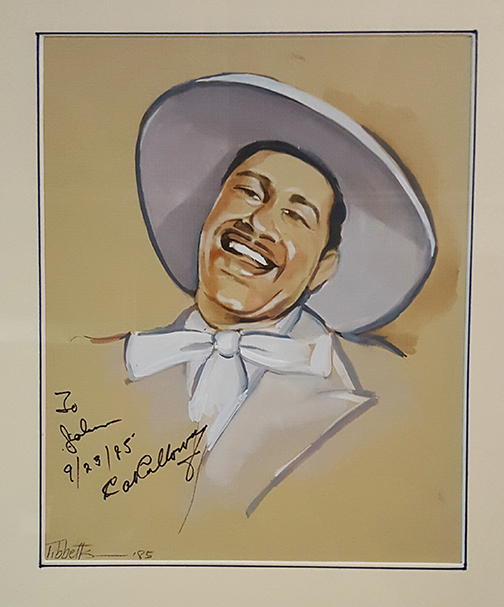 "We are delighted to add these portraits to Spencer Research Library's collections, where they will help document the many hundreds of interviews Professor Tibbetts has conducted with some of the most significant musicians, writers, actors and directors of the last several decades," said Elspeth Healey, special collections librarian. "This first installment includes portraits of musicians such as bandleader Cab Calloway, opera singers Kathleen Battle and Luciano Pavarotti, cellist Yo-Yo Ma and composer Philip Glass, as well as writers from the world of science fiction and fantasy, a particular strength of Spencer's collections. Researchers will be able to move from reading a transcript of an interview with Ray Bradbury housed in Professor Tibbetts's papers to examining the portrait of Bradbury that Dr. Tibbetts prepared for that interview—which Bradbury then signed."
A selection of these paintings was previously on display at an exhibit titled "Stargazing," held at the downtown main branch the Kansas City Public Library.
Tibbetts has numerous insightful anecdotes about his artistic process and preparation for interviews, including some last-minute paintings when preparation time was limited.
"I was on assignment in London in the autumn of 1988 from Orion Pictures to interview actor Michael Caine, who was portraying Sherlock Holmes in the movie, 'Without a Clue,'" shared Tibbetts. "As someone passionately interested in Sherlock Holmes, I took advantage of the opportunity to seek out two more related interviews, one with PBS actor Jeremy Brett, then appearing on stage in the West End as Holmes; and with the daughter of Arthur Conan Doyle, Dame Jean Conan Doyle. I had only recently arrived at my hotel and knew I had only a few hours to paint the portraits of all three. It was a unique opportunity. So there I was, in my room, at 2:00 in morning, prying my eyelids open, hurrying to complete a panel of all three figures against the deadline. Well, by the end of the next day, I got all three interviews and all three autographs—Dame Jean even signed my portrait of her father. After that, it was time to catch up on my sleep!"
Once cataloged, the paintings will be accessible in Spencer Research Library's reading room during regular building hours.