African American Newspapers 1827-1998 (Readex)
Exporting Citations from African American Newspapers 1827-1998 (Readex) to EndNote
An overview of how to export from most Readex databases to EndNote.
Readex databases offer differing levels of export-ability, summarized below:
No Export:
     Serial Set Maps (To manually add citations, see Manually adding citations to EndNote)
Single or Multiple Citation, Text-based Export:
     African American Newspapers, 1827-1998
     American's Historical Newspapers - Kansas Newspapers
     World Newspaper Archive
     (Follow the instructions below for multiple export, then see Importing with EndNote Tags for dealing with text based export.)
Single Citation Only, Automatic Export:
     American State Papers
     Early American Imprints, Series 1
     Early American Imprints, Series 2
Single or Multiple Automatic Export
     Foreign Broadcast Information Service Daily Reports 1964-1996
Automatic Export Instructions
1. Conduct your search.
2. To export multiple citations, check the Add to My Collection box on the lower right of each listing. When finished, click View My Collection from the top.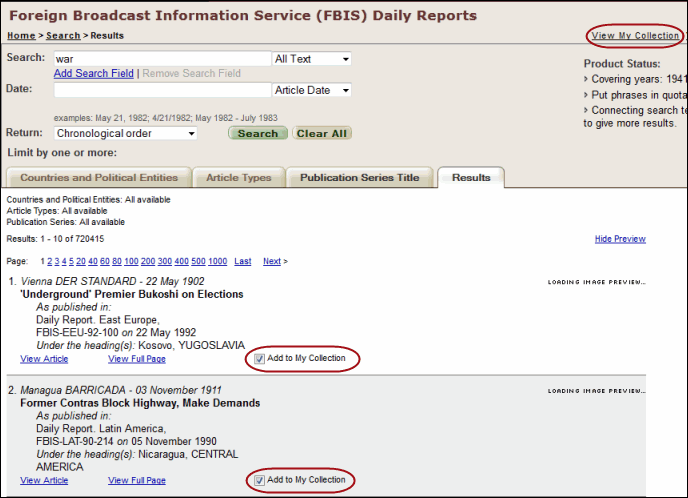 3. In the next screen, click Export Citations. The citations will automatically export to EndNote.

4. To export single citations instead, simply open the citation you wish to export and click Export Citation from the top menu.