ArtStor - EndNote Export Instructions
Exporting citations to EndNote from ArtStor
The first time you use ArtStor, you will probably need to install a special filter before you can export citations to EndNote. Instructions follow below in two stages, first for getting and installing the filter, and second for exporting citations.
Instructions for Installing the Filter
1. Before you begin, it will be useful to download and install the ArtStor filter if you haven't already. (You can come back to this step later, though, if you prefer.) Get the filter here.
2. In the pop-up Opening Artstor.enf box, make sure the Open with box is set to EndNote (as below) then click OK.
3. The ArtStor filter will open in EndNote. From the main EndNote menu, click File then Save as.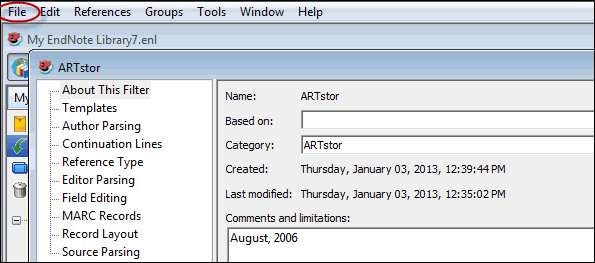 4. In the Save as box, remove the word Copy, then click Save.

Instructions for Exporting Citations
1. To export citations, choose by clicking the images for which you plan to export citations, then click Tools from the menu above.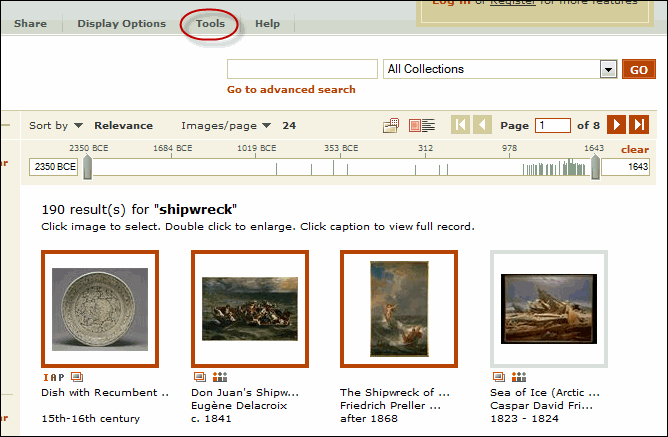 2. Click Save citations for selected images.

3. Again from the Tools menu, click View and export citations.

4. In the Export Options box, click Directly export citations into EndNote, ProCite or Reference Manager, then click Go.
5. From the pop-up Choose An Import Filter box, select ARTstor then click Choose. The export should complete automatically from this point.