Importing EndNote-Formatted Text Documents to EndNote Library - EndNote Export Instructions
Importing EndNote-Formatted Text Documents to EndNote Library
If your export to EndNote produced a text file that looks something like the image blow, you can still import to EndNote. This file is simply using EndNote tags. Your EndNote library will read them and place them in the correct fields, just like it would for a direct export.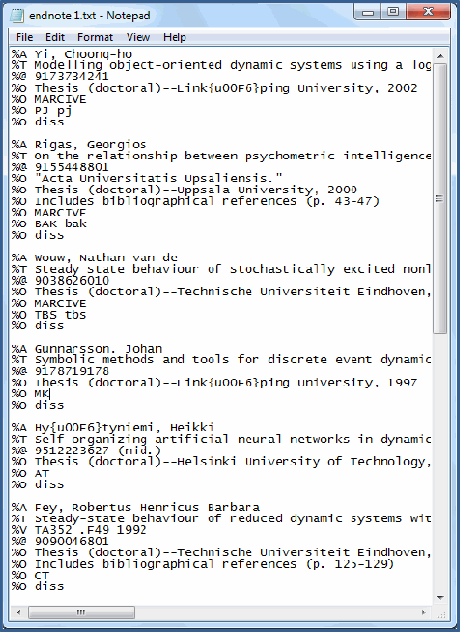 1. Start by saving the document as a text file (.txt).
You may need to copy and paste it into a Word document first. (If you received it via e-mail, for example, click "Reply" then highlight the text to copy it from the e-mail.)
You can create one larger file to import (rather than having to import several smaller ones) by simply copying and pasting everything into one document as you go.
2. Next, you may want to look through the document and ensure that the tags are as you'd like them to appear in EndNote.
For example, in the left-hand image below, %A denotes the author field for EndNote; %T denotes the title field. The year field, however, is missing a tag. Adding %D (in the image on the right) will notify EndNote that the date of the publication is 1999.

Using the list of common tags below, make the necessary modifications to your file, then save it as a text file.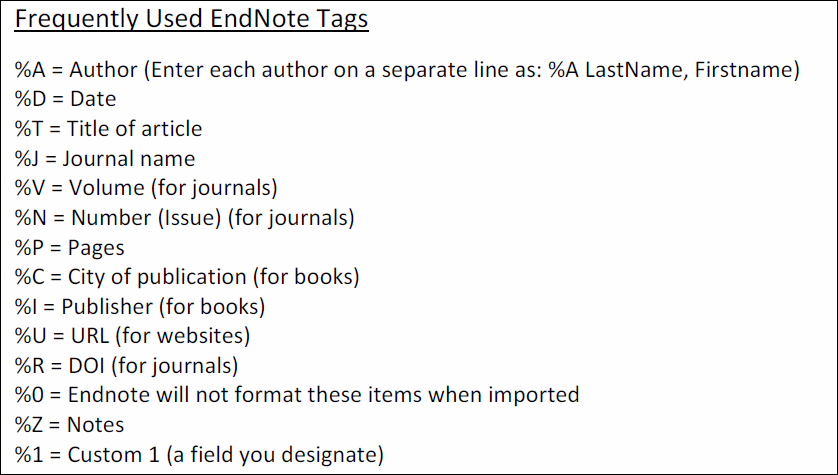 3. When you are finished, again save your document as a text (.txt) file. You are now ready to import it to EndNote. Open (or go to) your EndNote library and click File from the top menu, then Import, then File (which will pop up in a side menu).
4. In the pop-up Import File box:
Click Choose to navigate to and select your file.
Click the drop-down arrow in the Import Option box and select EndNote Import.
Click Import. Your references should appear in your EndNote library.