Here at KU Libraries, we are fortunate enough to be uniquely positioned at the crossroads of the educational process, bringing together the resources and expertise that KU students and faculty need to succeed.
---
The Official Sponsor of Inspiration
With seven libraries across two campuses, it's easy for students to find the support they need to excel in the classroom, practice room or studio. At the Murphy Art & Architecture Library, for example, librarians offer expert guidance, exposing the next generation of artists, designers, architects and art history scholars to a wealth of rare, world-class resources. Our blend of collaborative spaces and one-on-one encouragement form the perfect primer for inspired creative and scholarly exploration — and you won't even get your hands messy.
---
Private support is vital to the work we do. Your contribution, no matter the amount, benefits every student, faculty member and unit at KU. Make a gift today and become the official sponsor of KU Libraries.
---
Questions?
Contact Rebecca Smith, Executive Director of Communications & Advancement, at rasmith@ku.edu or 785-864-1761.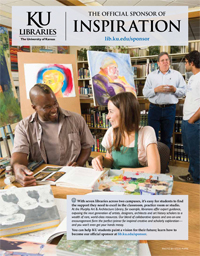 The libraries' fourth installation of its "sponsor" series appeared in Kansas Alumni magazine, issue 3, 2016. View a larger image. To catch the next issue, become a member of the KU Alumni Association.
---