Goal 2: Advance scholarship through proactive engagement in research and scholarly communication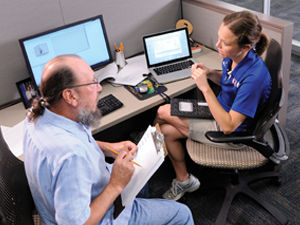 Librarians serve as leaders in a rapidly changing information landscape, providing the university with essential expertise on the changing forms of scholarly information. KU Libraries facilitate the flow of scholarly communication at every stage, from discovery to delivery, through our services, partnerships and information resources. Through this goal, we will expand our national and international leadership in the area of scholarly communication, including open access initiatives and new publishing models.
We will strengthen the Libraries' role as an important strategic partner in research done at KU, offering new services, information systems and improved access to a comprehensive set of information resources. These resources will be delivered using the methods and formats best suited to researchers' needs, thus supporting excellence in research and innovation. We will contribute to the data management infrastructure of the campus, providing such services as the curation, access and preservation of research data, to help the university harness the enormous potential of information.
Outcomes
Rich collections of resources held by KU Libraries are more discoverable and accessible.
International and national advocacy and leadership for Open Access makes more of the world's knowledge discoverable and accessible.
KU's research, scholarship and distinct resources are openly shared.
A wide range of new and emerging research products are available via both traditional and new models of dissemination.
KU Libraries provide resources and services necessary for a thriving research enterprise at KU through timely assessment of needs and proactive responses to changing models of research dissemination, scholarly communication, publishing and technology.
Scholarly resources and the historical record are actively preserved for future generations through active engagement in lifecycle management of information in all formats.
Strategies and Actions
Key metrics by which we will gauge progress:
Usage statistics for content collections

(Outcome 1 & 3)

Growth of digitized local resources

(Outcome 1 & 3)

Number and type of local digital objects curated in digital preservation systems

(Outcome 1, 3 & 6)

Percentage of faculty participating in Open Access policy

(Outcome 2, 3 & 4)

Number of initiatives sponsored by or engaged in by KU Libraries at national and international levels

(Outcome 2 & 5)

Number of relevant consultations, presentations, seminars and other programming related to scholarly communications and research support services sponsored or hosted by the Libraries

(Outcome 2 & 5)

Number of participants in those scholarly communications themed programming and events

(Outcome 2 & 5)

Number of journals edited or produced at KU and available online or migrating toward open access models of dissemination

(Outcome 3 & 5)

Number and size of research data collections curated

(Outcome 3 & 6)

Participation by KU Library faculty/staff in grants written by, with, or in service to other units (through resources, staffing, services) to advance scholarship

(Outcome 4 & 5)