Goal 4: Stabilize and grow existing funding sources, secure new funding opportunities and enhance public accountability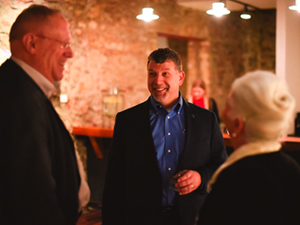 Given financial realities at the university, state and national levels, traditional sources of library funding will remain flat at best in the near future. To meet the ever-increasing costs of providing information resources and establishing new programs of service, our ability to increase funds and augment budgets through alternative sources of funding will be crucial.
To this end, we will develop a comprehensive plan to enhance financial resources and diversify the potential revenue streams coming into the libraries. These new resources are not intended to replace state dollars, but to supplement those funds, in order to increase KU Libraries' measure of excellence and advance our new strategic endeavors. Additionally, we seek a needed balance between funding current operations and investing in the future.
Developing and maintaining relationships with current and potential donors will be an important aspect of securing alternative funding. Advocating for the essential role of KU Libraries in research productivity, student learning and overall engagement is also a crucial part of this goal.
Connections to Bold Aspirations
Outcomes
Greater role in controlling Libraries' funding sources and allocations.
Diversified sources of funding to anticipate new opportunities and enhance programs, services, facilities and collections and therefore meet expanding user needs.
Energized stakeholders and an expansion of the resource base.
Growth in private funding through Far Above, the university's comprehensive fundraising campaign.
Strategies and Actions
STRATEGY 4.A. Achieve institutional funding levels equivalent to peer organizations.
Explore an increase to the current $1 per credit hour library fee.
Research the potential for a new Required Campus Fee (RFC) designed to expand library services and enhance facilities.
Ensure vital library support for major initiatives by securing a portion of funds earmarked to support institutional advancement.
STRATEGY 4.B. Seek grants for the Libraries as an organization and for individual library faculty and staff research initiatives.
Establish structures and staffing within the Libraries and collaborate with campus partners to support and coordinate grants.
Develop organizational expertise in the application and administration of external grants.
STRATEGY 4.C. Increase Donor Support.
Revise our donor communications strategy and tactics to align with Far Above, the university's capital campaign.
Create and grow partnerships to expand our potential donor base.
Prioritize and expand fundraising goals to support the Libraries' strategic priorities.
Expand engagement efforts and activities at the local, state, regional and national level.
Investigate additional fee-based service models to provide needed services to companies, alumni and others.
Key metrics by which we will gauge progress:
Funds received through new library revenue streams

(Outcome 1 & 2)

Funds received through successful library grant applications

(Outcome 1 & 2)

Amount of grant money allocated to the Libraries

(Outcome 1 & 2)

Number of grant applications submitted by KU Library faculty/staff

(Outcome 2)

Funds received through private gifts

(Outcome 2 & 3)

Number of new library donors

(Outcome 3 & 4)

Retention rate of existing library donors and growth of contributions

(Outcome 3 & 4)