Overview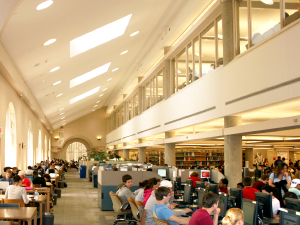 KU Libraries invest in innovative forms of pedagogy and new capabilities for knowledge access, production and preservation. We connect teaching, learning, research and service functions across the university. For our students, we help advance intellectual discovery, information literacy, critical thinking skills and lifelong learning. For our faculty and researchers, we enrich teaching and fuel research. Collectively, we promote knowledge creation, interdisciplinary scholarship and research productivity through our collections and services.
The changing landscape: Dynamic transformations in technology, increased focus on outcome-based educational initiatives, budgetary issues caused by rising costs and reduced revenues, and the shifting processes of research and scholarly communication all influence the future of the research library. This rapid change is a pervasive part of our environment, and it demands that our planning process allow for agility to be responsive to emerging needs.
KU's Bold Aspirations: Our goals, like the broader goals for KU defined in Bold Aspirations, are ambitious. They are premised on the understanding that the Libraries are responsible not only for the cultivation, discovery and dissemination of information, but also for facilitating learning, research and knowledge creation. By achieving these goals, we support and encourage outstanding research, teaching and learning across the university.
Integration and collaboration are the comprehensive themes that connect the diverse ambitions and focus of our goals. The Libraries already engage in productive partnerships that shape the campus environment and further its mission. Propelled by our new strategic goals, we will actively strengthen and expand these cooperative and embedded partnerships, to increase systematic integration into the research and learning activities of the campus. Library faculty and staff will reinforce these connections with our users and bring subject and content expertise to bear in meeting both research and educational needs.
This strategic plan is a living document meant to serve as a roadmap as we prioritize our opportunities and align our resources to advance our vision and mission. Over time, there will be areas where outcomes are attained or where new strategies will be necessary. The Libraries will adopt processes to ensure the plan is actively implemented, evaluated, improved and updated.
As we move into new and emerging areas, we must continue to deliver exceptional quality in our established services, research collections and physical spaces. We remain committed to these ongoing and significant activities that, while not explicitly addressed in the strategic plan, are vital to the success of the Libraries and, ultimately, the university.