Here at KU Libraries, we are fortunate enough to be uniquely positioned at the crossroads of the educational process, bringing together the resources and expertise that KU students and faculty need to succeed.
---
The Official Sponsor of Tradition
We love to tell stories, and KU's sesquicentennial provides the perfect opportunity. As the campus community celebrates 150 years of innovation and discovery, the university archives capture the story of KU — where we started, who brought us to where we are today, even how our mascot was hatched. From timeless traditions to those forgotten, this is just one piece of the Libraries' diverse collections that contribute to research, teaching and learning at KU and beyond.
---
Private support is vital to the work we do. Your contribution, no matter the amount, benefits every student, faculty member and unit at KU. Make a gift today and become the official sponsor of KU Libraries.
---
Questions?
Contact Rebecca Smith, Executive Director of Communications & Advancement, at rasmith@ku.edu or 785-864-1761.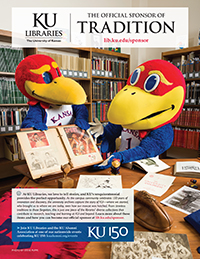 The libraries' "sponsor" ad appeared in Kansas Alumni magazine, issue 6, 2015. View a larger image, and learn more about the items pictured by reading below. To catch the next issue, become a member of the KU Alumni Association.
1. Laura Klopfenstein scrapbook (1955/56)
2. Bolshevik Jayhawk
3. Jayhawk sketches
4. Jayhawk piggy bank
5. 1917 Jayhawker yearbook
6. 1920 Jayhawker yearbook
7. Original University Courier (1893)
8. Thomas Ashley Jayhawk
9. Original Naismith photo (1930s)
10. 1906 KU v. WU game ball
11. KU pillowcase (1900-20s)
12. 1890 KU football team photo
---
Join us in person to discover even more about KU Traditions.