BiblioBios: Undergraduate Engagement Librarian returns to KU to support next generation of Jayhawks 
---
Amber Ovsak has a deep appreciation for the challenges of college life and academics, shaped by her own experiences attending KU as a first-generation college student. Ovsak has returned to campus two decades after leaving KU amidst her own struggles, to support student success through her new role as Undergraduate Engagement Librarian at KU Libraries. 
In her first months at KU, Ovsak remembers walking past the campanile on her way to class, listening to the bells play as the first fall leaves twirled down from the trees and a pair of squirrels chased each other, rippling through the grass. The loveliness of the setting stopped her in her tracks, and she paused simply to look and listen.  
"It was truly a magical moment for me," Ovsak said, describing the scene. "It felt like such a privilege to attend this university."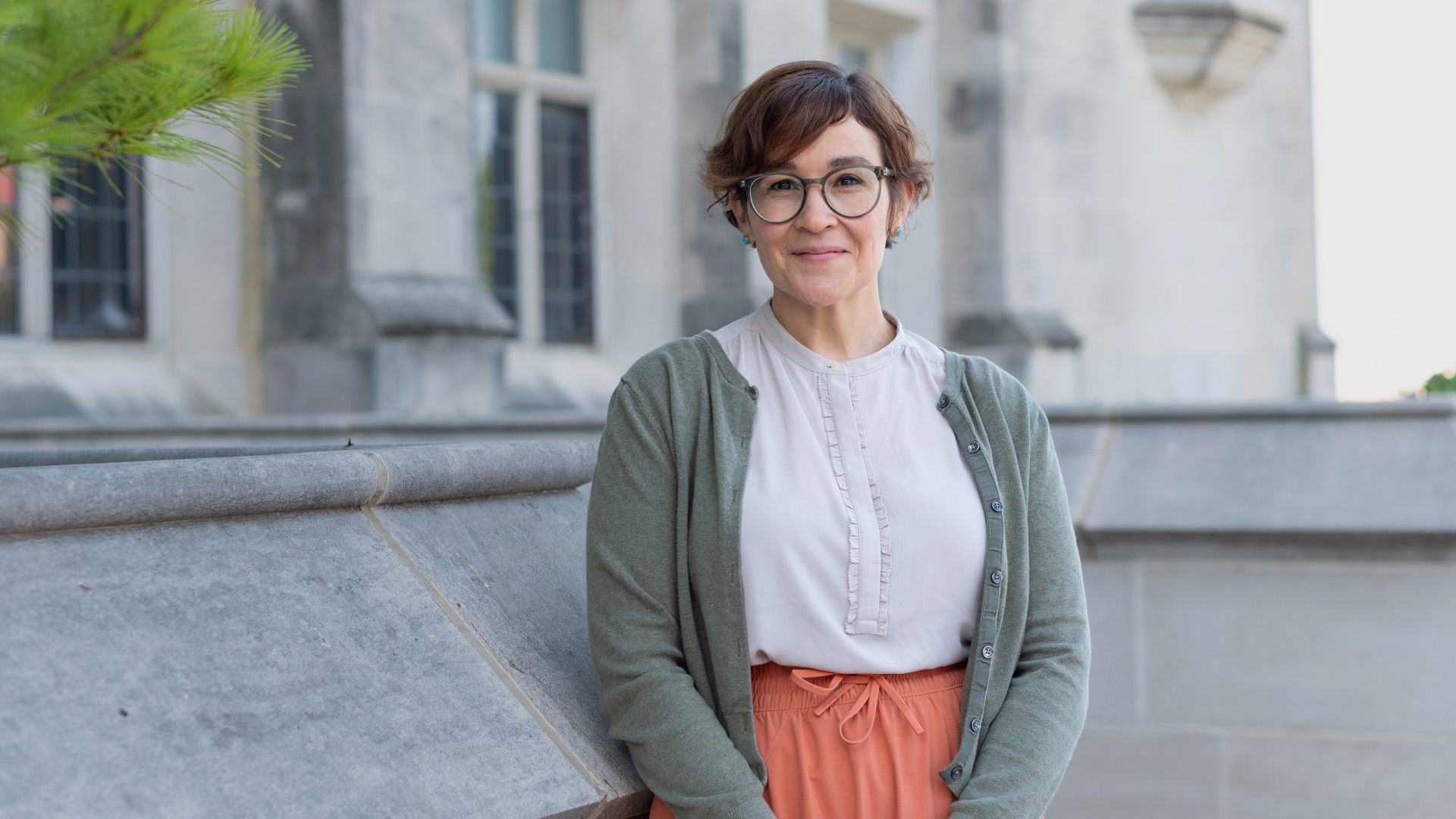 Another early college memory was equally vivid, though colored by a different tone: a disheartening grade on a paper in English class, her favorite subject. 
"I received good grades in high school, however, the rigor at KU was very much a shock for me," Ovsak said.  "I went in to speak with the professor and left feeling extremely ill-equipped for the tasks ahead of me." 
Ovsak came to KU from Concordia, a small town of about 5,000 people in northcentral Kansas. The adjustment to navigating a much bigger community, taking her first large lecture classes, and feeling unsure of what she would study was overwhelming, and she wondered if she belonged at KU.  
"I was doing a lot of soul-searching. I knew that I wanted to focus on some type of public service track, but I wasn't sure of my strengths, or if I had any at all," Ovsak said. "In hindsight, I think there were things that I could have done differently to make a university like KU work for me, however, I lacked the self-confidence to even ask for help when it was needed. I remember feeling a bit like a fish out of water." 
Ovsak left KU after her sophomore year, deciding to take a break from college. Her experience inspires an affinity for the students she works with now through KU Libraries, and a desire to support their success. 
"I respect just the courage to get out here and do what they're doing," she said. "We want to make sure that students feel welcome, that they understand the amount of resources available to them, and that we will meet them where they are and make sure they have access to the resources necessary for academic success." 
Ovsak and her fellow Undergraduate Engagement Librarian, Sarah McCall, teach information literacy classes, and can provide tailored, one-on-one consultations for students on research projects, citations, and other support and tools to promote effective use of digital and physical collections. The librarians also help organize programs and opportunities for undergraduate students to interact with and feel comfortable using the libraries to enable their success at KU.  
Ovsak found her own success partly through connecting with academic libraries when she returned to college at Northern Arizona University in Flagstaff, a year after leaving KU. She earned an undergraduate degree in women's studies and a master's degree in political science. She went on to earn a Master of Library and Information Science at Emporia State University. 
"As a college student, I used the library so much and some of my fondest memories were at my university library," she said. "It's a place for deep thinking, communication, and collaboration. Libraries are designed to include all learners and we have spaces for everyone." 
Along her path, and with the support of libraries, Ovsak found she had a lot of strengths: she has worked as an advocate for domestic violence survivors, as a junior high social studies teacher, and as a public school librarian before becoming a KU Libraries Undergraduate Engagement Librarian this spring.  
"It's been my dream to come back here," Ovsak said. "KU is a special place for me." 
BiblioBios shine a light on the people behind the collections, programs and services in KU Libraries. Find your link to important information and resources by connecting with our faculty and staff through the KU Libraries Directory.