Watson Library
---
Built in 1924, Watson Library is the oldest and largest of KU's libraries and is named after university librarian Carrie Watson. The library houses collections in the social sciences, humanities, education, journalism, and social welfare. The majority of KU's film and DVD collection can also be found in Watson.
Watson offers both group and quiet study areas, as well as computer workstations, bookeye scanners, and printers. Laptops and calculators can be checked out at the service desk.
1425 Jayhawk Blvd.
Lawrence, KS 66045
Information: 785-864-8983
Research Help: 785-864-3347
Reserve a Study Room
Study rooms are available to support academic study and research.
Reserve a study room
Ask A Librarian
We can help with your research questions — contact us by chat, phone, email, text or at a Research Help desk.
Chat with a librarian now!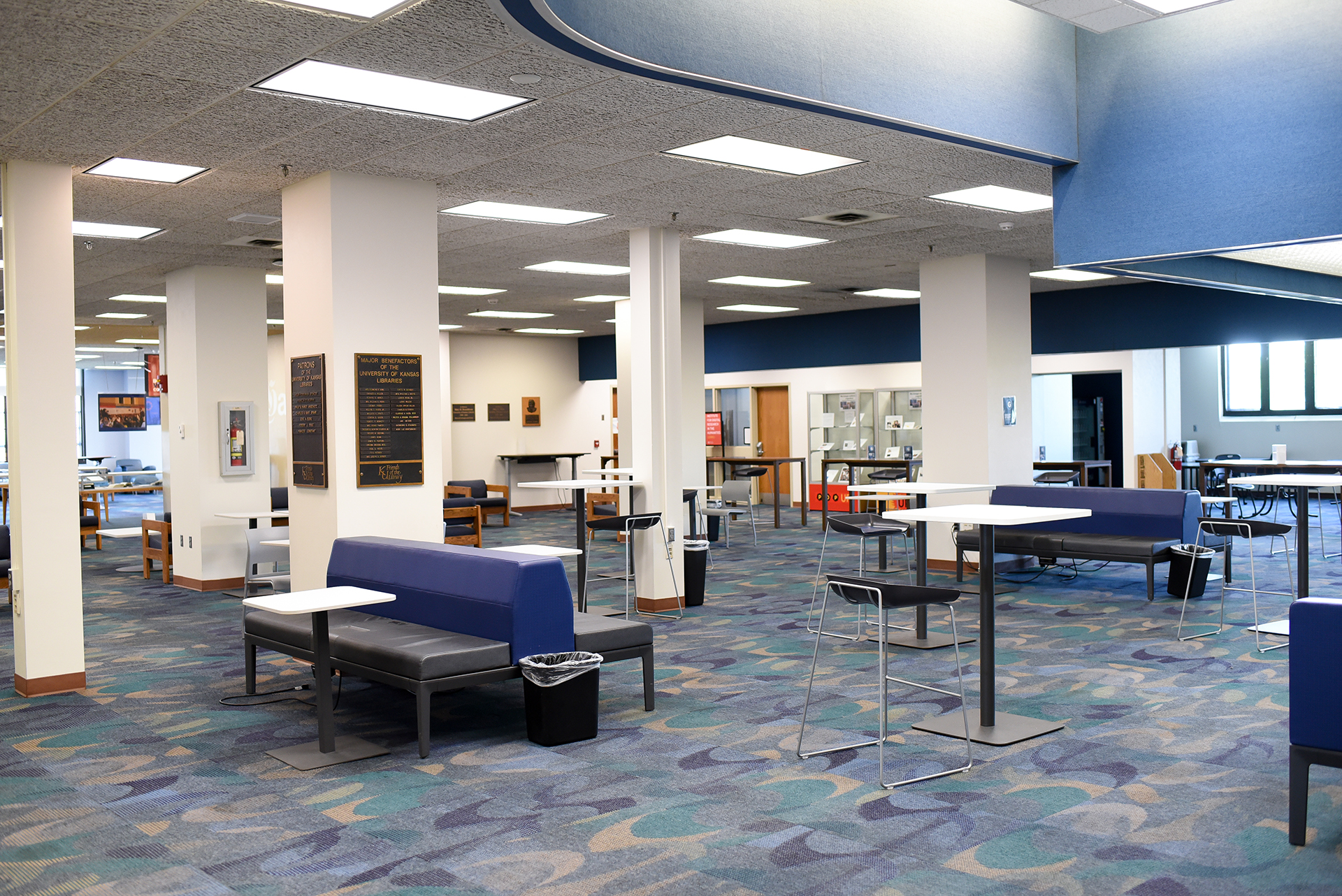 Third Floor
The third floor of Watson boasts group study spaces, computer workstations, FitDesks, study carrels, and Studio K.
Fourth Floor
Quiet individual and group study spaces and the graduate study lounge are located on the fourth floor.
Fifth Floor
The fifth floor is home to quiet study with breathtaking views of the gothic windows, International Collections, a reflection room, and the libraries administrative office.
---
---
---
Located in Watson Library
Expert library faculty and staff can help you find the best resources for your research topic, discuss strategies and develop skills for searching article databases and the library catalog, identify and locate primary source materials, and search the web efficiently for credible information.

Easily return your checked-out materials back to the library.

Military-affiliated KU Students can checkout a Common Access Card Reader from the Watson service desk. The Common Access Card (aka CAC) Reader can be used at the CAC designated computer in Watson Library.

FitDesks

Bike Desks (aka FitDesks) are located east of the lobby, near the DVD collection and group study room.

Graduate Student Study

The Graduate Student Study lounge offers graduate students of all disciplines a quiet place to write, research, and study.

The GIS & Data Lab facilitates the KU community's use of digital data, such as geospatial, quantitative, tabular, and textual data.

Each semester, the Haricombe Gallery hosts exhibitions with interdisciplinary work by the KU community.

Honors Student Study Lounge

A space for Honors Students to focus on their work.