Internships
Conservation Services regularly offers internships. Contact Whitney Baker, head of Conservation Services, at
wbaker@ku.edu
or
785-864-3568
if you're interested in a summer internship. Learn about our past interns and their work below.
Paul Springer Jr.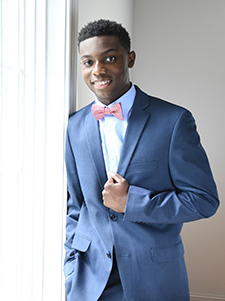 Paul Springer Jr., served as KU Libraries' 2021 summer intern in the Historically Black Colleges & Universities (HCBU) Library Alliance Library Preservation Internship Program. A rising senior at Fisk University in Nashville at the time of his internship, Paul and a cohort of seven other HBCU students met online twice weekly for discussions about various topics in library preservation. For his individual project, "An Archival Collection of Fisk University during the COVID Era," Paul established a framework to collect papers and social media posts that document the academic semesters interrupted by COVID-19, with the eventual plan to deposit the collection in the Fisk University Archives.
Carline Valmond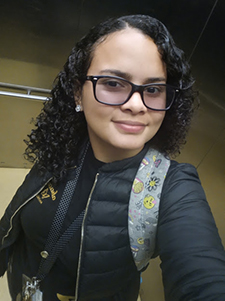 In the summer of 2020, Carline Valmond served an eight-week virtual internship with Conservation Services, as part of the Historically Black Colleges & Universities (HCBU) Library Alliance Library Conservation/Preservation Internship Program. Carline, a student at Grambling State University in Grambling, Louisiana, was part of a cohort of eight undergraduate students at HBCUs who were paired with research libraries, meeting weekly for lectures and working on individual projects. Carline devised an ambitious plan to preserve the stories and artifacts of the Kalinago people on the island of Dominica, her home country. To date she has organized a space to house objects and a system for recording oral histories. The project is ongoing.
Julia Davila Coppedge
In 2019, Julia Davila Coppedge became the first Ringle Conservation Intern to work primarily with audiovisual materials. While working with Chris Bañuelos in the audiovisual preservation labs, her project focused on gathering detailed metadata from over 200 videotapes of a local public access television show. Not only was she required to watch at least parts of each episode, she also helped set up equipment, document procedures, and digitize videocassette tapes for our new video digitization program. Julia also participated in audio digitization for half-inch reel-to-reel and audio cassette formats. At the time of her internship, Julia was a master's degree candidate in the School of Information at the University of Texas at Austin.
Matthew Willie Garcia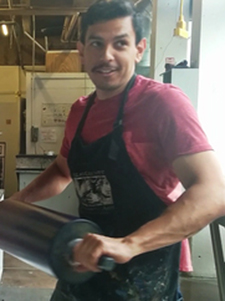 Matthew Willie Garcia, the 2017 Ringle Conservation Intern and a KU graduate student in Visual Art, spent his internship working on the Albert T. Reid Cartoon Collection in the Kansas Collection. The first step in his project was to meet with the curator and processing staff to define the project scope. Next, he dry-cleaned drawings and housed them in individual folders in alkaline boxes. He also recorded information about each drawing in an inventory that will be incorporated into the finding aid when the collection is processed. In addition to this main project, Matthew also mended two collections of 19th century material and removed tape from 20th century drawings.
Jocelyn Wilkinson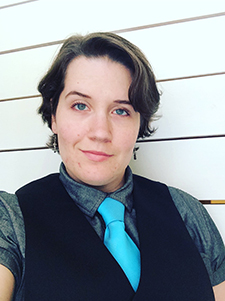 As part of the requirements for a master's degree in Museum Studies from KU, Jocelyn Wilkinson served an internship in Conservation Services between December 2016 and May 2017. During her time in the lab, Jocelyn completed complex housing projects for political buttons from the Wilcox Collection and T-shirts from Special Collections and the University Archives. In addition, Jocelyn was part of a team that organized, cleaned, sleeved, and housed a large collection of railroad track drawings. She also vacuumed and created protective enclosures for volumes from Spencer Library; learned lab techniques such as book and paper repair; and wrote a post for the Spencer Library blog.
Noah Smutz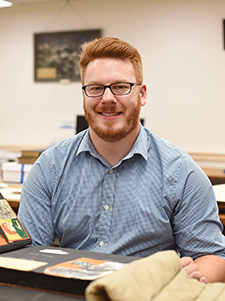 A graduate of West Dean College (Chichester, UK) with a master's degree in book conservation, Noah spent his eight weeks as the 2016 Ringle Conservation Intern working with a collection of student-made scrapbooks from the University Archives, most of which dated to the early 1900s. He created a survey tool to record detailed information about the condition of the 41 scrapbooks, then created or modified housings for all of the books, many of which contained various pieces that had to stay together in one box. Noah also completely treated some of the scrapbooks, which required extensive stabilization.
Brecken Liebl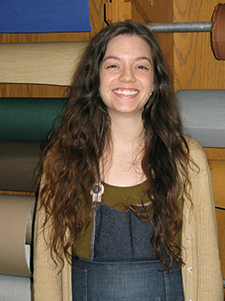 In 2015-16, Brecken Liebl served a year-long internship in the Stannard Conservation Lab as part of the requirements for her master's degree in Museum Studies from the University of Kansas. Brecken completed many projects, such as photographing, rolling, and hanging textiles in rolled storage; cleaning and creating protective enclosures for volumes in Spencer Library; producing condition reports for objects from the University Archives and creating individual housings for them; writing posts for the Spencer Library blog; and learning lab techniques such as paper repair, enclosure construction, and book repair and bookbinding.
Allison Brewer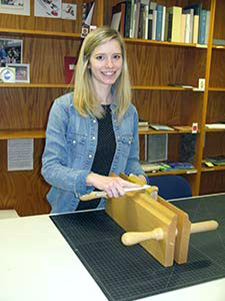 A pre-program conservation student, Allison served previous internships at the Library of Congress, Heugh-Edmondson Conservation Services, the Hirshorn Museum (Smithsonian Institution), and the American Philosophical Society. During her eight weeks as the 2015 Ringle Conservation Intern, Allison completed a survey of approximately 450 yellowback books from Special Collections. Yellowbacks, so named because they were often printed with yellow paper covers, were mass-produced volumes marketed as railway literature in the 1840s through early 1900s. Allison's survey captured bibliographic information, types of damage, and treatment priority for each book. She then provided treatment for 35 of the most damaged fragile books.
Amber Van Wychen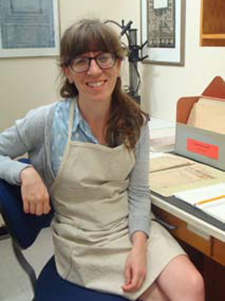 A paper conservation graduate of the Camberwell College of Art (London), Amber spent her 2014 summer internship assessing and treating the collection of Peggy Hull Deuell, the first female American war correspondent and Kansas native. The collection, housed in the Kansas Collection, consisted of newspapers and newspaper clippings, manuscripts, scrapbooks, and maps. Amber completed a condition survey of the collection, mapped out a treatment strategy with the curator, and treated hundreds of items during her eight weeks in the lab. She also assisted in a bookbinding workshop for a group of participants in KU Mini College, held by the College of Liberal Arts and Sciences.
Erin Kraus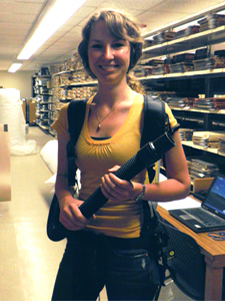 For eight weeks in summer 2013, Erin Kraus held the position of Conservation Summer Intern. A graduate student in Art Conservation at Queen's University in Kingston, Ontario, Erin supported two main initiatives. Her first project was to develop workflows and procedures for humidifying and flattening oversize architectural drawings in an auxiliary space. Her second project was to survey, document, un-frame, and treat selected framed materials from the University Archives and Kansas Collection of Spencer Research Library. Erin also helped us respond to two water leaks in Anschutz Library in June 2013.
Cheyenne Bsaies
Between June and August 2012, Conservation Services hosted summer intern Cheyenne Bsaies. Most recently from Virginia, Cheyenne completed a condition survey of a new collection of 16th-18th century rare books, constructed complex enclosures for oversize rare books with metal bosses and clasps, and helped organize a training session for the Collections Emergency Response Team on responding to large-scale disasters. The training was put to good use during one of Cheyenne's last days when a water main break in the Art & Architecture Library deluged approximately 17,000 books, which were quickly sent offsite to be vacuum freeze dried.