KU Libraries, Spencer Museum present exhibition highlighting work of Kansas artist and art therapist Mary Huntoon
---
The University of Kansas Libraries, in collaboration with the Spencer Museum of Art, will open a new exhibition in Kenneth Spencer Research Library on August 23. "Mary Huntoon: Artist & Art Therapist" features collection objects from both KU Libraries and the Spencer Museum.
The exhibition, curated as part of a major conservation initiative supported by the Andrew W. Mellon Foundation, shines a light on Mary Huntoon, a Kansas native whose art brightened the lives of many. The libraries and the museum are home to a large collection of original artwork by Huntoon, as well as the Mary Huntoon papers, which include personal and business correspondence, original poetry manuscripts, photographs, and more. Many of the original works of art have undergone conservation treatments in preparation for their exhibition debut.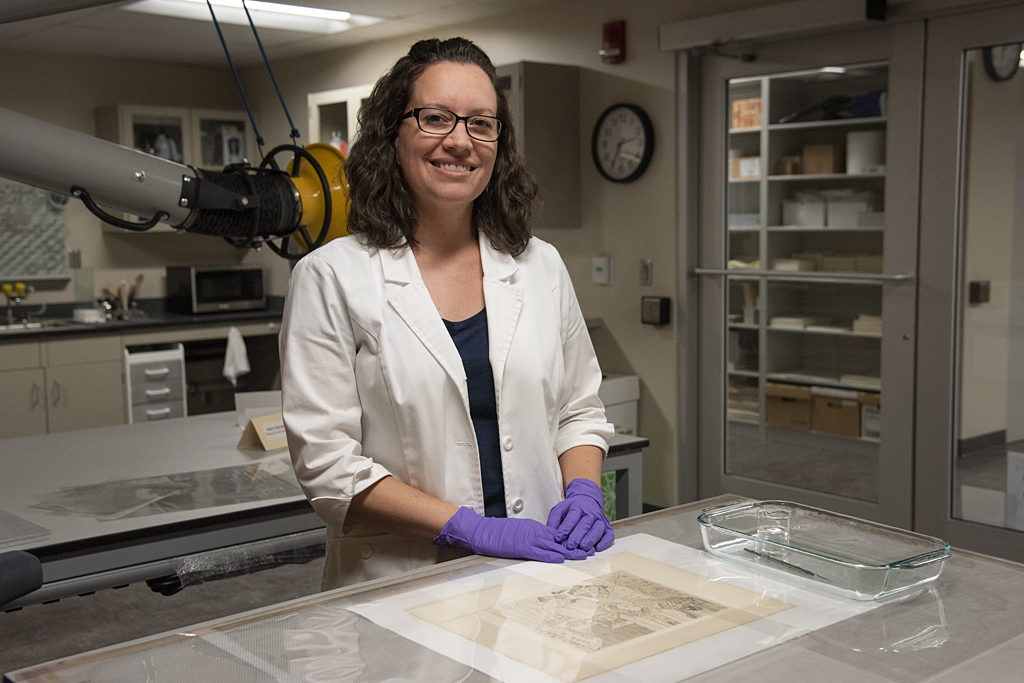 "Mary grew up knowing she wanted to be an artist," said Jacinta Johnson, associate paper conservator for the Mellon initiative. "She studied at The Art Students' League in New York and lived in Paris for five years. She returned to Kansas in 1930 and later became one of the early pioneers of what is now art therapy. Her work depicts important people in her life and all the different places she lived and the places she traveled."
The exhibition will explore Huntoon's career in three sections, focusing on her artwork, her efforts in the field of art therapy and the conservation work Johnson completed on Huntoon's artwork and papers.
In 2018, KU Libraries and the Spencer Museum earned a significant grant from the Mellon Foundation to conserve valuable cultural materials housed at the University of Kansas. Dedicated to this effort, Johnson supports both campus units and seeks out connections between their collections. She curated the Huntoon exhibition in collaboration with Spencer Research Librarian Letha Johnson and Spencer Museum Curator Kate Meyer.
In addition to the exhibition, the libraries and the museum will host two related virtual events.
September 21, 6 p.m.: The Place of Kansas in the Evolution of Art Therapy, with Libby Schmanke, professor with the Emporia State Art Therapy Program
September 27, 7 p.m.: Mary Huntoon's Unexpected Legacy, with Christina Weyl, researcher of women printmakers
"Mary Huntoon: Artist & Art Therapist" will be on display in Spencer Research Library through November 23. A virtual exhibition will build on the collections and research presented in person. Learn more on the KSRL webpage.
Kenneth Spencer Research Library is located at 1450 Poplar Lane, directly behind Strong Hall and across from the Campanile. All are welcome to visit the exhibit during current hours of operation, which can be found on the Spencer Research Library website.