The wave of March Madness may have crested in Lawrence, but a recent gift to the University of Kansas Libraries will give Jayhawk fans the opportunity to celebrate KU's basketball legacy well into the future.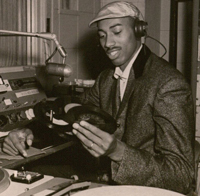 Barbara O. Chamberlain-Lewis, sister of legendary Jayhawk Wilt Chamberlain, has given a collection of her brother's letters, postcards and newspaper clippings to the Kenneth Spencer Research Library. 

"This gift is unique," said Becky Schulte, university archivist. "We don't have these kinds of papers from any student athletes, so this is really significant."

The collection includes Chamberlain's correspondence with other luminaries from Jayhawk history such as former KU men's basketball coaches Phog Allen and Dick Harp. The letters range from a simple note from Dolph Simons Sr., editor and publisher of the then-Lawrence Daily Journal-World, welcoming Chamberlain to KU to more serious exchanges that demonstrate the racial climate of the time. 

A letter sent to Chamberlain from former Oklahoma City University coach Abe Lemons details a heated game between KU and OCU in which OCU's players were suspected of intentionally fouling Chamberlain and spectators threw everything from food to seat cushions onto the court. Other items in the gift include Western Union telegrams, newspaper articles and additional correspondence. 

"Wilt had to deal with the changing ideals of his time," Schulte said. "These things would interest not only basketball fans but also anyone interested in history and American studies."

Chamberlain-Lewis made the gift while in Lawrence attending a basketball game at Allen Fieldhouse and visiting the Spencer Research Library. 

"Wilt kept these documents as his special treasures," Chamberlain-Lewis said of the gift. "I wanted them to go to the right place where the legacy can continue. They belong back in Kansas."

The items are being cataloged and will reside in the University Archives, the repository for the records documenting the history of KU.