Thursday, January 8, 2015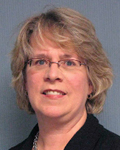 The University of Kansas Libraries welcome Kent Miller and Mary Roach into their new positions as interim deans. Miller and Roach were appointed on December 13, 2014, following the departure of Dean Lorraine J. Haricombe.
Miller and Roach are longtime faculty librarians at KU. Since 2013, they have held the positions of associate deans, sharing internal leadership for KU Libraries and directing operations and activities across the libraries' five divisions.
Miller, who holds an MLS from Emporia State University and MA from KU, has held leadership roles at KU Libraries for areas including operations, administration and user services. Roach holds an AMLS from the University of Michigan and has led cataloging and technical services within the libraries.
In their new roles, Miller and Roach will oversee the libraries' new strategic directions, which seek to promote knowledge creation, interdisciplinary scholarship and research productivity at KU through collections and services.