Major gift launches new exhibit series at Spencer Library
---
David Bergeron and Geraldo Sousa's connections to KU Libraries loop and crisscross through time, including deep dives into historical research, rigorous rounds of coursework, and a long-held admiration for librarians. With their 2022 major gift to KU Libraries, the couple is establishing an annual exhibit series at the Kenneth Spencer Research Library to foster ties between the libraries, the KU community, and beyond.
Bergeron vividly remembers his introduction to Spencer Library in March 1976 while interviewing for a faculty position in KU's English Department. Outside the windows of Spencer's North Gallery the forsythia were blooming on the bank of Potter Lake, and Bergeron was surprised and "very impressed" by his tour of the library facilities and collections.
"I didn't know what my future was going to be at that point, but Spencer Library was an unexpected resource I didn't realize was here," Bergeron said.
A preeminent Shakespeare scholar, author, and professor emeritus of English, Bergeron just completed his 45th year at KU, with the libraries serving as an essential partner throughout his career.
Sousa's ties with Spencer Library intersected with Bergeron's in August 1977 when Sousa came to KU on a Fulbright scholarship from Brazil. He arrived on campus for his first graduate class, taught by recently hired Professor Bergeron in one of Spencer Library's classrooms.
Sousa went on to earn his Ph.D. at KU, and after teaching at KU, Iowa State University, and Xavier University, joined the KU English Department in 2004 as a full professor — teaching, among other courses, the same graduate course he'd taken with Bergeron, in the same classroom in Spencer Library. Sousa has been a member of the KU Libraries Board of Advocates from its inception.
"KU has always been an outstanding university, but the libraries have been and are still the heart of it," Sousa said.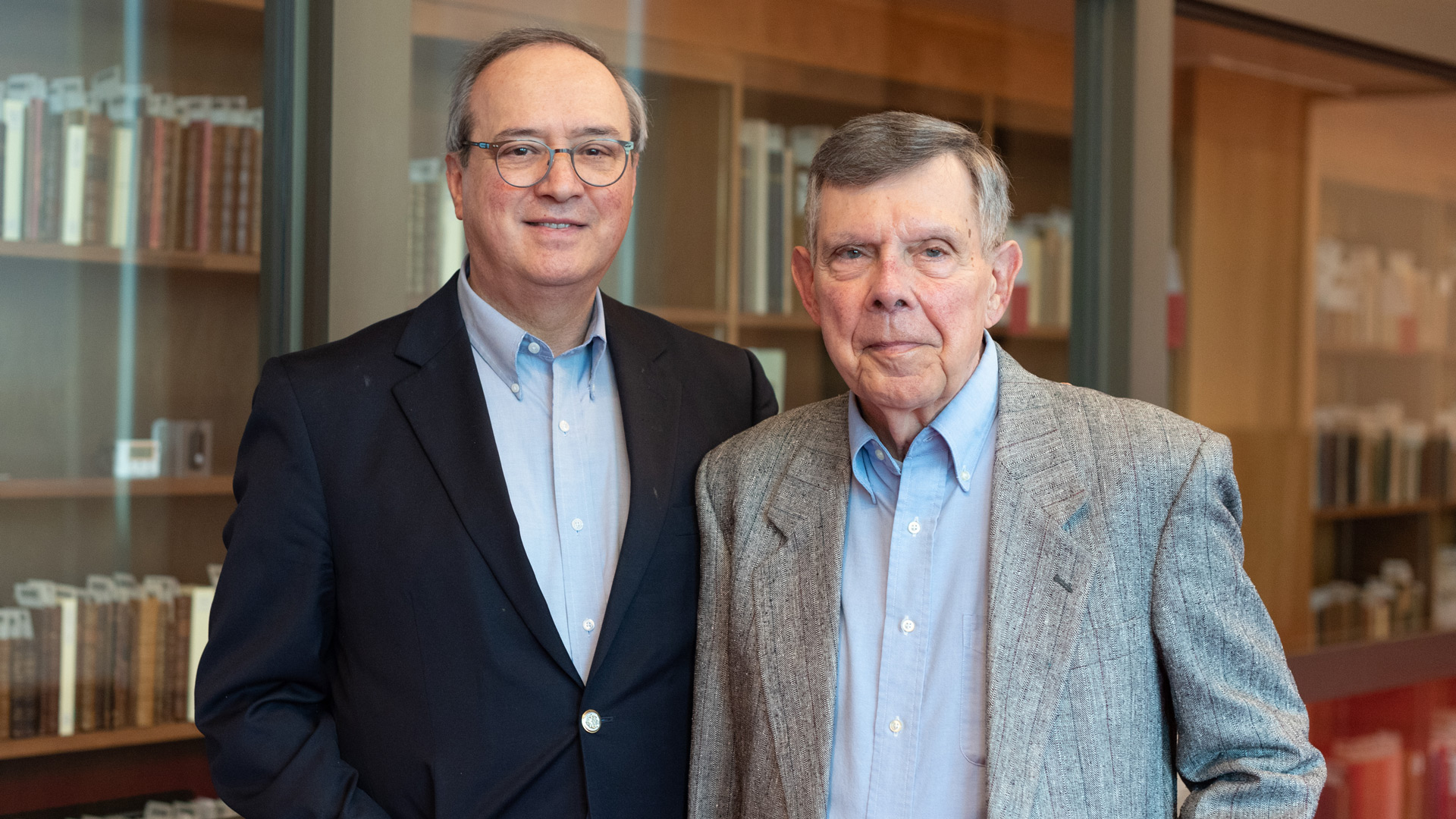 By establishing the David M. Bergeron and Geraldo Sousa Exhibit Fund for Spencer Library, the pair aims to create new library connections for more KU faculty, as well as for the local, national, and international research community with the new exhibit series. The series will be co-curated by KU faculty and Spencer librarians, with supporting speakers and events that appeal to a wide audience. KU faculty who participate in the annual program will receive a stipend, an incentive made possible by the Bergeron and Sousa Fund. 
Bergeron is currently at work on the inaugural exhibit in the series, collaborating with Spencer Library Director and Associate Dean Beth Whittaker. The exhibit will center on the 400th anniversary of Shakespeare's First Folio — featuring some of the same materials Sousa worked with in 1977 during his introduction to the library as part of Bergeron's class.
The First Folio celebration exhibit, "To the Great Variety of Readers: Celebrating the 400th Anniversary of Shakespeare's First Folio," will open September 21 with a public reception where Bergeron will offer an accompanying presentation.
"Collaborations between librarians and archivists and faculty are an exciting way to create exhibits," Whittaker said. "Spencer Library's collections are so vast and diverse that when we work with faculty who dive deeply into research, we are able to gain new insights and bring those to exhibit audiences. It's been delightful working with David, whose knowledge of the folio and its publication is inspiring."
"It really has come full circle," Bergeron said.
This story first appeared in the summer edition of Bibliophile, KU Libraries' semi-annual publication for alumni, friends, and benefactors.