Visiting Students Grades K-12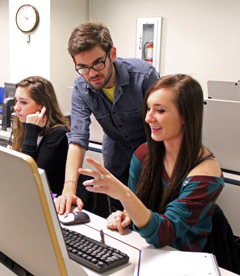 1. Introduction
The staff at KU Libraries is dedicated to sharing our resources with and promoting scholarly endeavors to Kansas high school students. We welcome high school classes and groups to visit our libraries. We can provide library research skills to help students access and utilize these services.  A library visit could include activities such as finding books, articles and other electronic information; learning successful search strategies; evaluating resources; and viewing primary resources.   
2. Contact information
To plan a visit to one of these libraries, please contact:
3. Links to Library Resources and Campus Information
An online guide for resources and tools to support high school students, teachers and librarians in the development of writing, research and study skills is available at http://guides.lib.ku.edu/collegereadiness covering:
how to find articles
how to find books
evaluating sources
primary source description (video)
scholarly vs. popular sources
tour of Watson Library
tour of Anschutz Library
4. Planning a Visit to KU Libraries
Please contact us at least 4 weeks in advance of the date you wish to come to ensure that staff and facilities are available.
We will discuss with you the assignment and your students' research topics prior to your visit to assist us in planning a session that will meet your goals for your students. Please be prepared to provide the assignment and a list of preliminary topics when you schedule your visit.
At least one teacher, school librarian, or media specialist must accompany students. 
Depending on the number of students, we may need to divide the group into multiple sessions.

We will need the following information in order to help us plan a library session that will meet your goals for your students: 
Your name
Name and address of school
Daytime phone number
Other phone number
Email address
Purpose of visit—what do you want students to do and to learn while they are here?
What time would you like to arrive?
What time would you like to depart?
How many students do you wish to bring?
What grade or year in school are they?
Do you have any students with special needs?
What is the ability level of these students?
How many teachers, librarians or other adults will accompany you?
What preparation for this visit and for this assignment will you provide your students prior to coming?
Will you want your students to access our electronic resources?
Will you want your students to check out books?  
If your students will be working on an assignment,
be sure to provide the assignment and preliminary topics when you schedule your visit.
Please encourage students to bring flash drives for downloading journal articles.
Contact information for scheduling a visit is listed above.
 
Links to Library and Campus Information