Selected Essays, Bibliographies & Sample Collection
These selected essays are provided to help contestants get a general idea of what the judges are looking for in a winning entry, and may not be copied. Please follow all rules and guidelines to ensure your entry receives full consideration.
Graduate Division Sample Essays/Bibliographies
Undergraduate Division Sample Essays/Bibliographies
National Collegiate Book Collecting Contest Winning Essays/Bibliographies
Finalist Collection Summaries
Example Collection
This example collection by Jean Marie Trujillo was the 2nd place winner in the 2011 contest graduate division.
Annotated bibliography and essay (pdf)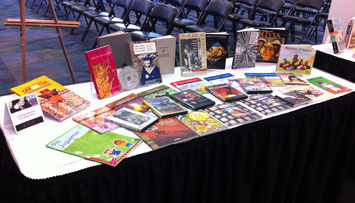 Need additional help or have other questions?
Please feel free to contact Kristin Sederstrom at kaz@ku.edu.